09:57 - 04 May, 2005
In The Court Of The Crimson King

Walking through all the fog....to get to the light
Swimming through The murky swamp waters..to get to the free oceans
Driving down the lonely highway to get to the light at the end of the Tunnel.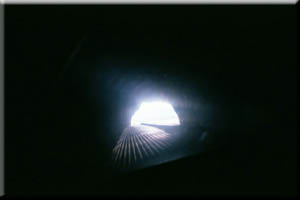 What's irrelevant is actually relevant...
What to some is surreal, to me can be quite real.....
I went to the Court of the Crimson King yesterday...
I won. we are NOT going to be evicted as I expected...

Judge dismissed the case.....


We are NOT losing our NY house....
Foreclosure is over, actually I refinanced to a 5.5% fixed rate...
Couldn't get luckier than that If I planned..
Things can be Ok at times though my stress is off the charts still...
I'm down 22 lbs since the "Ides of March"...
Want to know the secret???
It is called The Poverty Diet and..it works.....

The weather seems to have finally calmed down....
2 days in a row of 25 degrees in the AM and only 40's in the peak of the day does not aid in stress reduction. Especially with 2 kids who are suffering "Cabin Fever".....
I am coordinating a Homecoming celebration at our house when we return.
No holes barred..I get to tend bar in my OWN backyard and on our deck with the nice pool and New England Sunshine and Sea Breeze.......
Then maybe a trip to the Gap with the kids and wifey....
Its all good.....eyes focused on the prize...
Cheers